Product Description
Leisuwash SG touch free car wash machine :
LEISUWASH SG lead the evolution of car wash industry.
The LEIYI SG rotary high-pressure nozzle can be freely rotated according to the contour of the vehicle. The front cover of the car, the hood, the windshield, the top of the car, the rear tail box and the rear part of the car always maintain a flushing distance of 35CM, and water pressure to the car body is 100kg. High-pressure flushing, sands and other deposits are washed away.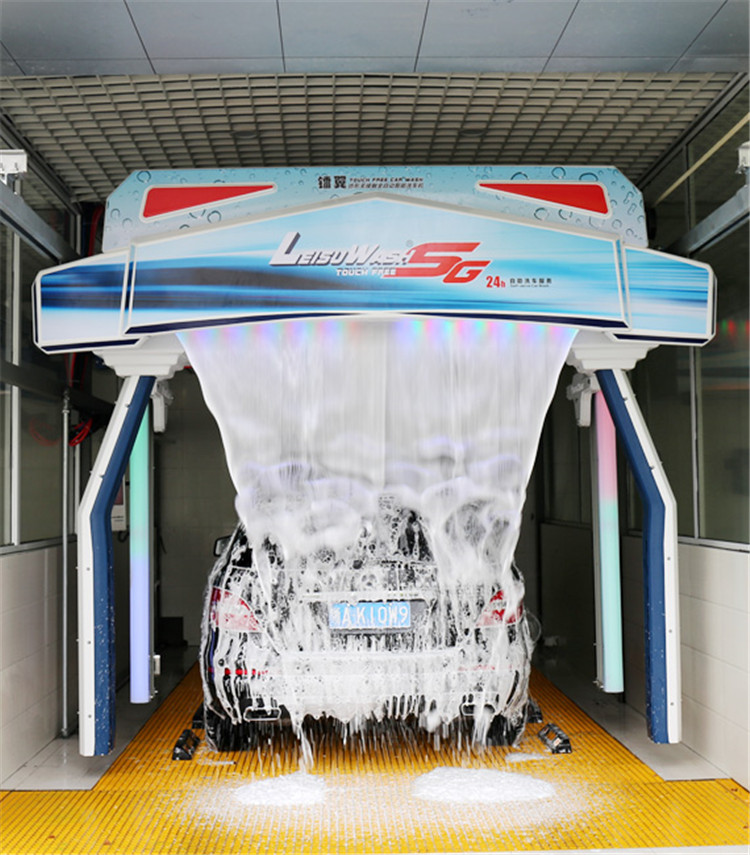 Leisuwash SG adopt special activator,biological degradation,decomposition of dirt rapidly


The high-brightness and colorful system with national invention patents can improve the decontamination effect and reduce the manual scrubbing action. At the same time of cleaning, it can also complete the glazing protection effect, making the paint surface more beautiful and brighter.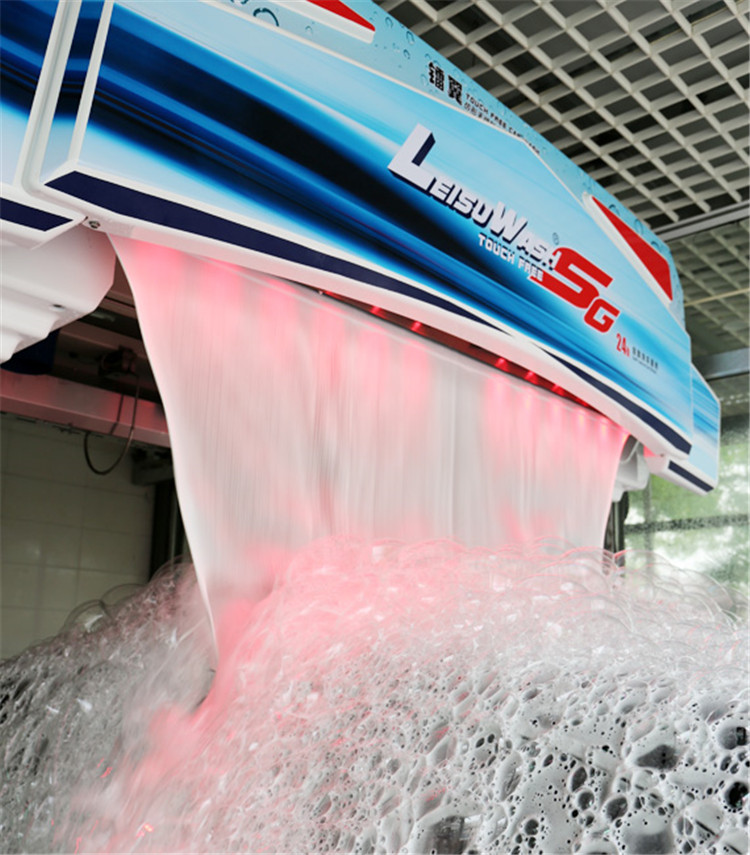 Ultrasonic rinsing on both sides of the ultrasonic wave, double washing speed

Germany imported ultrasonic detection system, the precision washing distance of 35 cm to both sides of the body, the USA Spray high pressure nozzle, 100Kg flushing pressure, so that the LEIYI SG can achieve perfect cleaning effect on both sides of the body.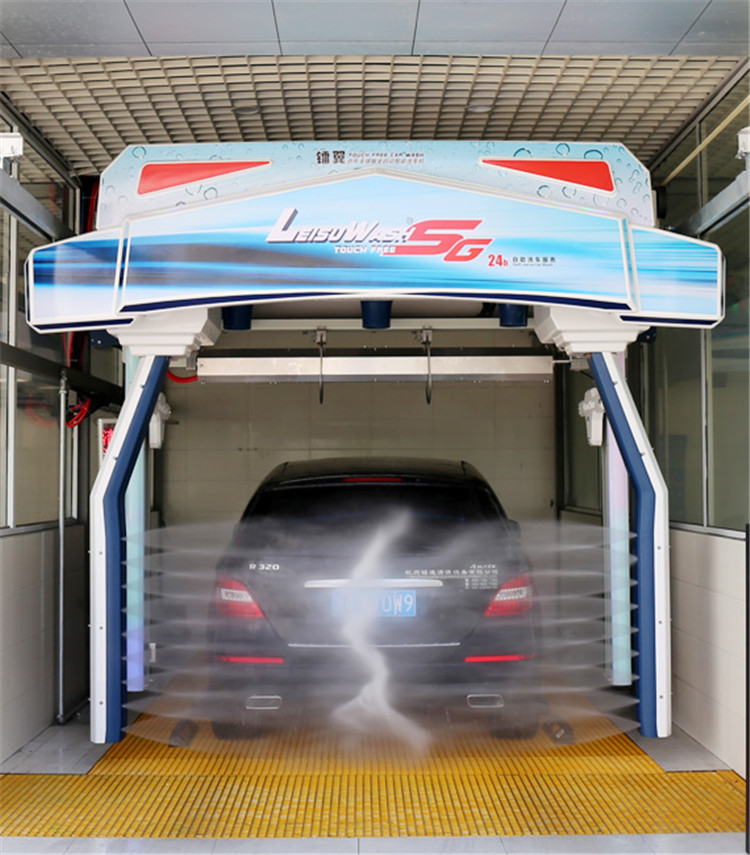 Leisuwash SG adopt no water crystal wax,there are no water spots on the car paint
Reverse osmosis water can paint the surface of the car, so that the crystal coating wax can be completely absorbed on the surface of the car body, and the car paint can be protected for a long time.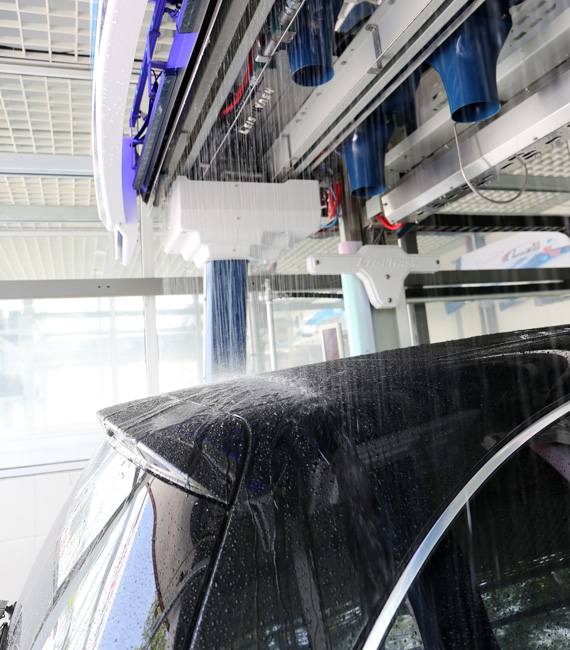 Leisuwash SG adopt specialized embedded fast speed air dryer system ,50 seconds to dry the car.No dead ends, including body gaps, for true automated cleaning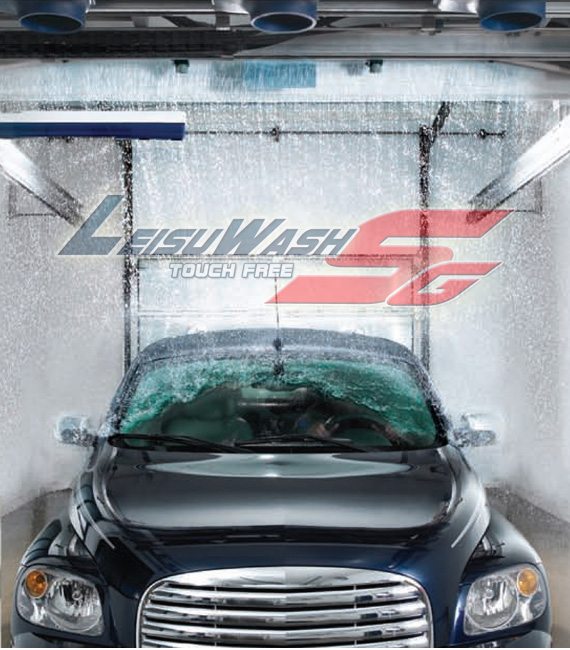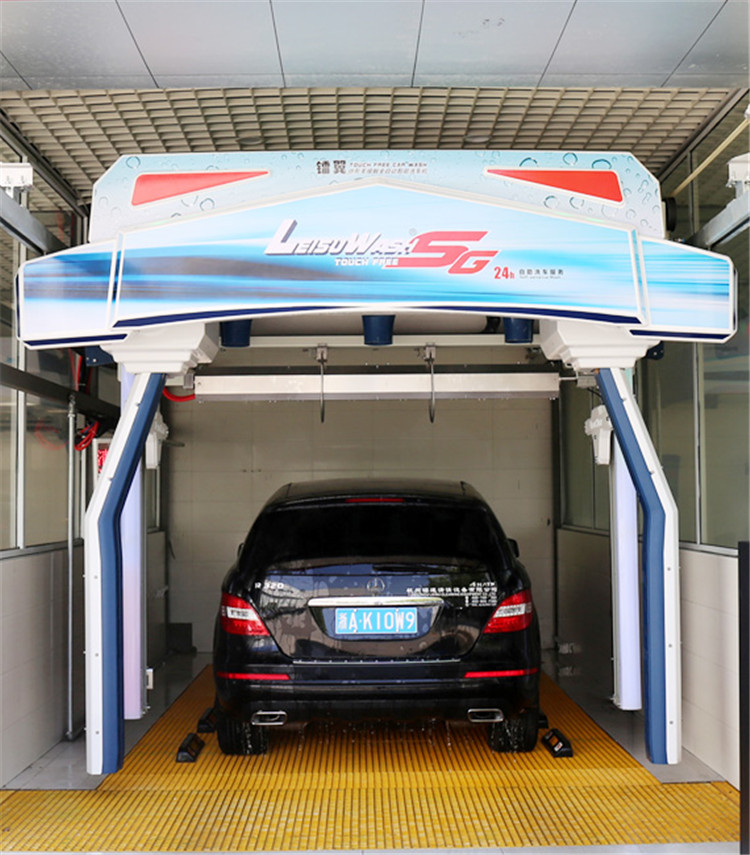 The Leisuwash SG has been designed with more users' needs in mind, and has achieved more cleaning of large vehicles. The cleaning length can reach 5600mm, width 2950mm and height 2250mm.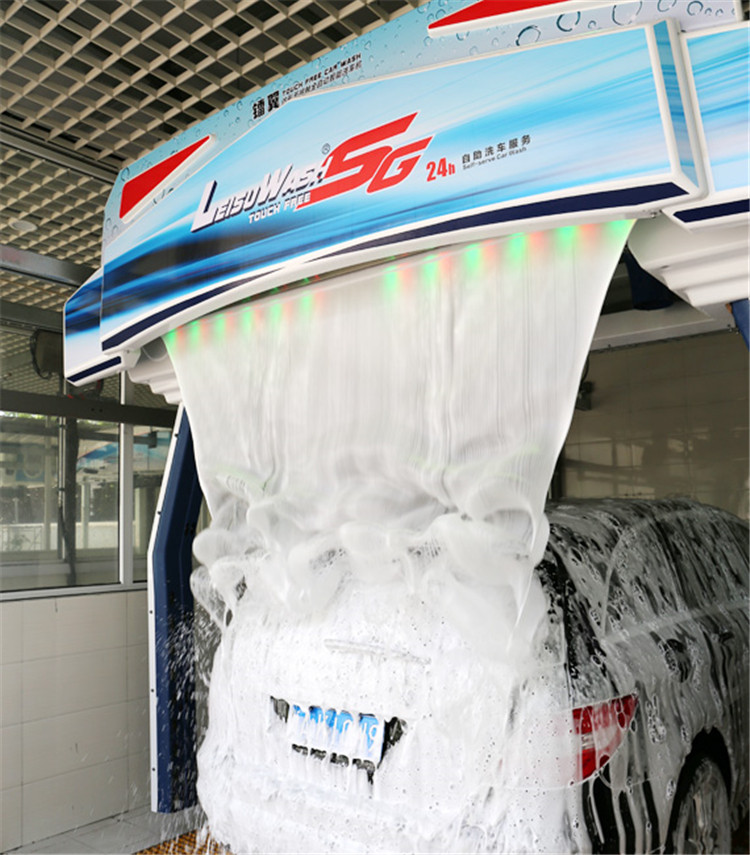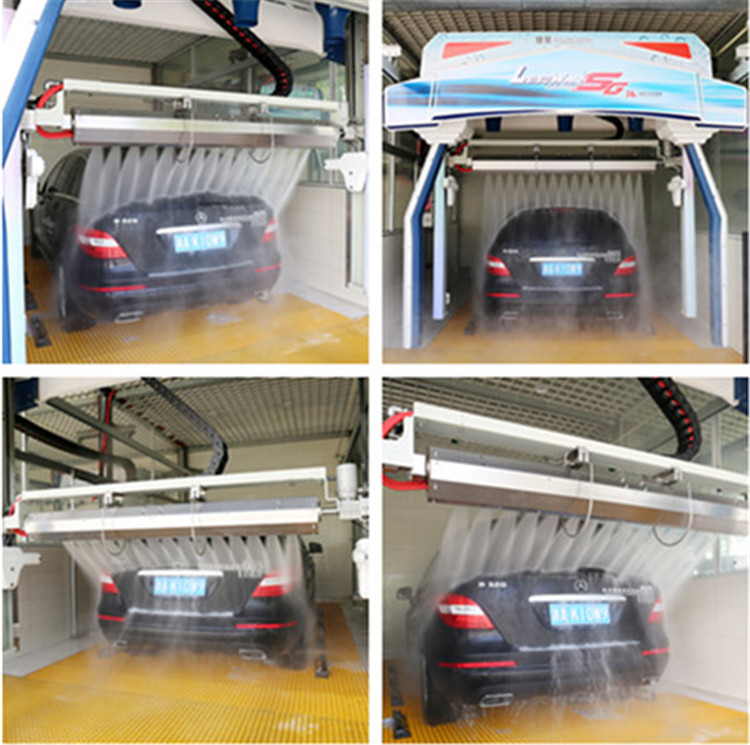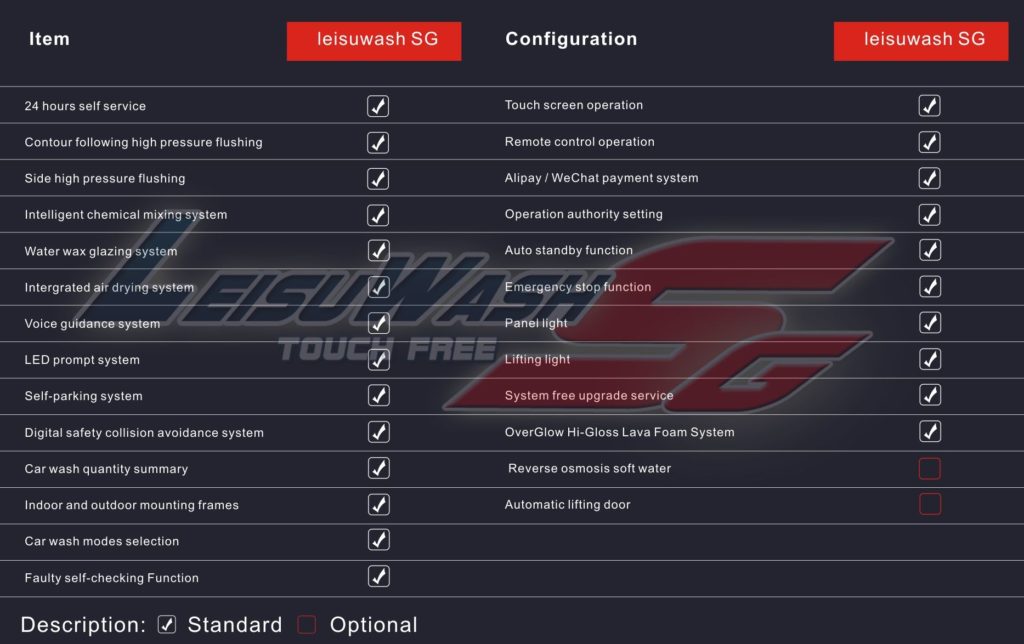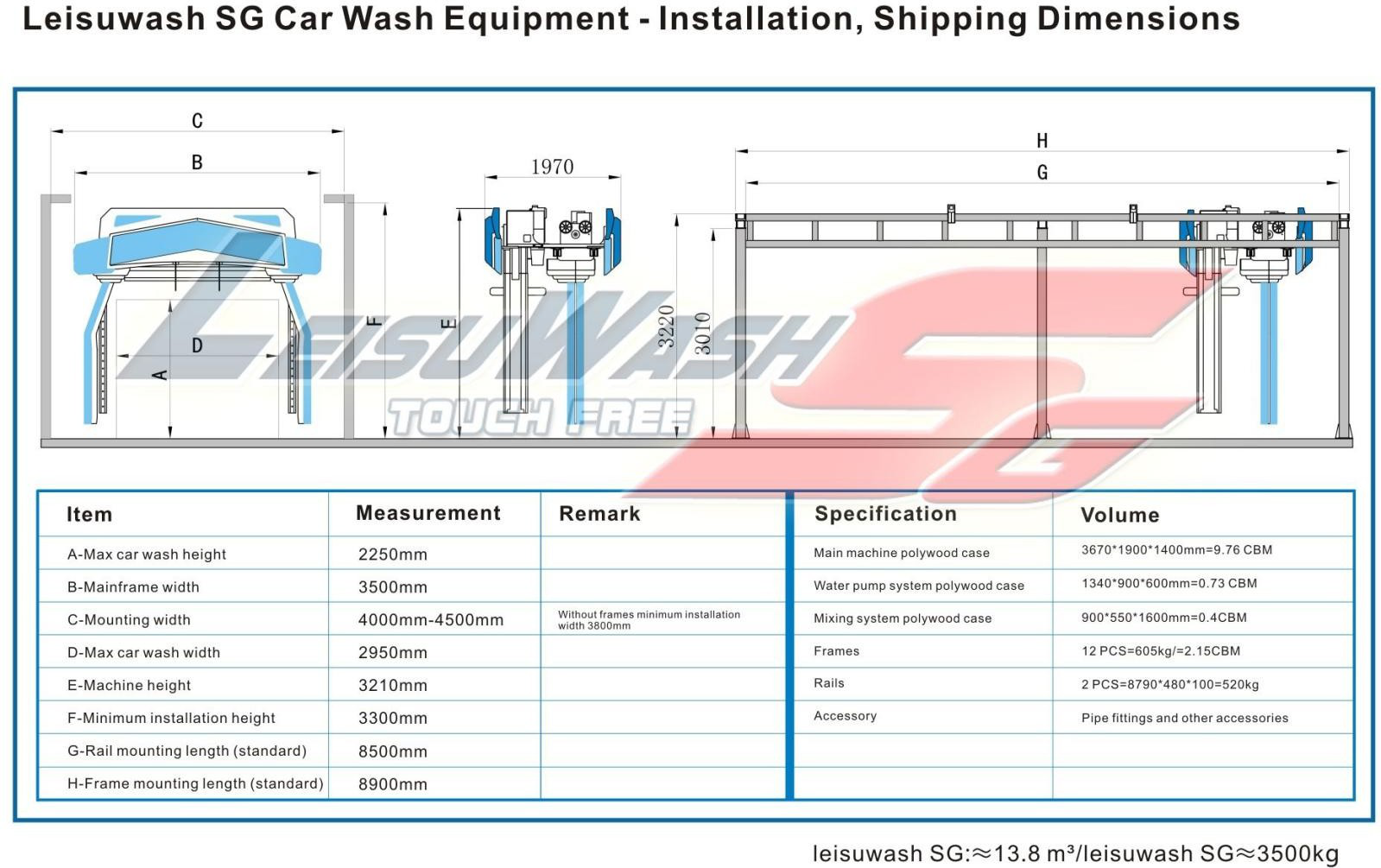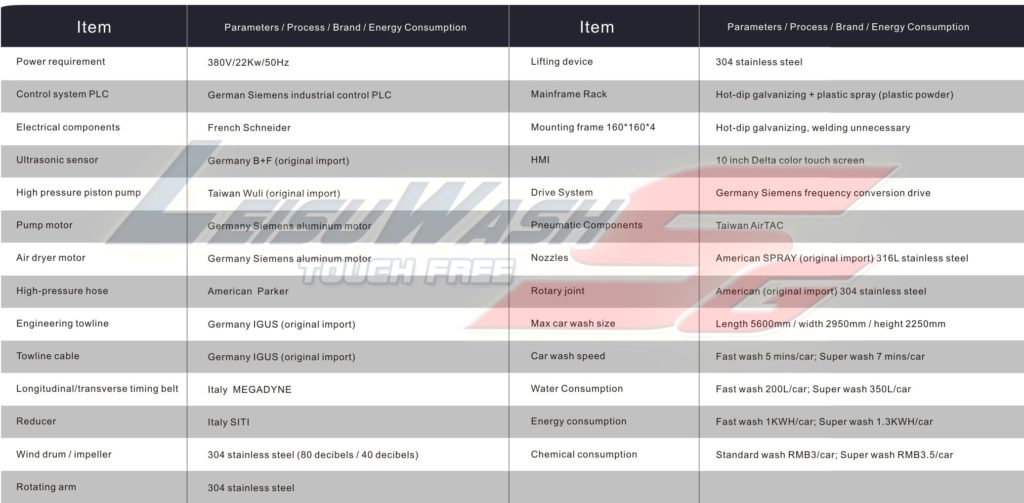 Technical parameter of Leisuwash SG touch free car wash machine:
Item

Configuration

Item

Configuration

Machine size(L*W*H)

1970*3500*3210mm

Installation

size(L*W*H)

8900*4000*3300mm

Power requirement

380V 50Hz,22Kw

Lifting device

304 stainless steel

Control PLC

Siemens industrial control PLC

Main frame rack

Hot dip galvanized+plastic spray

Electrical components

Schneider France

Mounting fr«m« 160*160*4

Hot dip galvanizing, welding unnecessary

Ultrasonic sensor

Germany B+F(original import)

HMI

10 inch Delta color touch screen

High-pressure piston pump

Wuli Taiwan (imported)

Drive system

Germany Siemens

frequency conversion drive

Pump motor

SIEMENS aluminum shell

Pneumatic component

Airtac Taiwan

Air blower motor

SIEMENS aluminum shell

Spray nozzle

America SPRAY (original import)

316L stainless steel

High-pressure hose

American Parker

Rotary joint

304 Stainless steel imported from USA

Engineering towline

Germany IGUS (original import)

Max car size

Length 5600mm /

width 29S0mm/height 22S0mm

Towline cable

Germany IGUS (original import)

Wash speed

Fast wash:5 minutes Super wash:7 minutes

Longitudinal/transver se timing belt

Italy MEGADYNE

Water Consumption

Fast wash:200L/car; Super wash:3S0L/car

Speed reducer

Italy SITI

Energy consumption

Fast wash:1kwh Super wash:1.3kwh

Wind impeller

304 stainless steel (80decibel/40decibel)

Chemical consumption

20-70ml customized

Rotating arm

304 stainless steel




37000USD
User-Friendly Design:
*LED with voice guidance
*Automatic clean rearview mirror
*Faulty record with data report
* Automatic standby service
* Multi control mode ( could operate wash system through touch panel, magnetic card, payment station button, remote controller )
Installation 3D size requirment of
Leisuwash SG touch free car wash machine: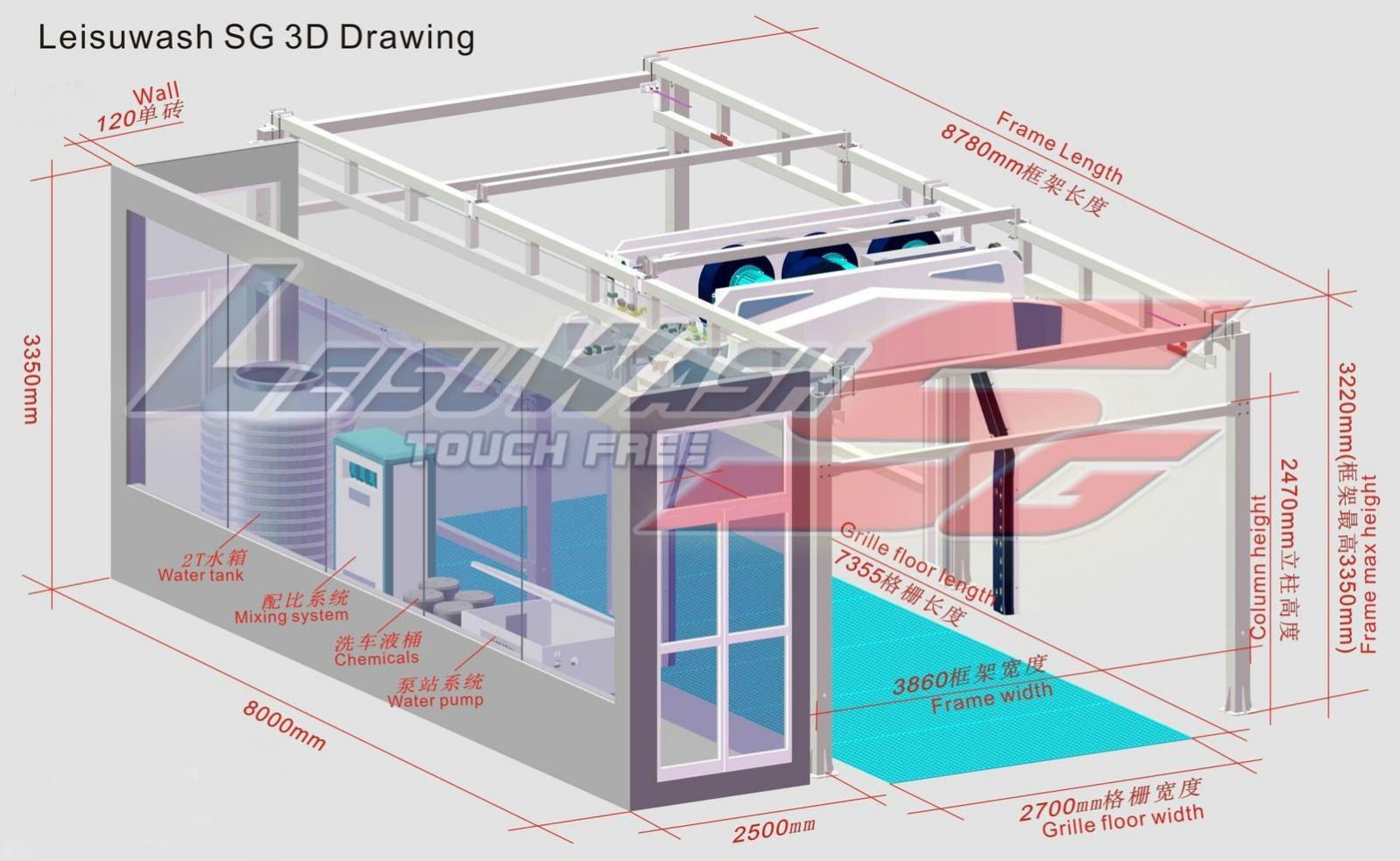 Specialized wooden case package and shipping service: