Product Description
Leisuwash S90 smart touchless car wash machine
New design concept, industrial manufacturing level, safe and powerful technical support, Leisu aims to make your manage low-cost and high-output, promoting the car wash industry to be intelligent, standardized and modernized.
Overview:

Leisuwash S90 car wash machine is an entry level car wash unit, but you won`t find any low grade components and no cost cutting on the expense of quality. Each Leisuwash S90 is built by Leisuwash employees in accordance with our usual quality standards, the low price is achieved by high standardization and the use of proven technology. The Leisuwash S90 is for clients that need a wash machine at a competitive price with higher ROI.

Features:
1.360 ° Smart Rotating Arm
2.Various Car Wash Liquid Spraying
3.High Pressure Chassis Wash & Car Body Wash
4.Magic Shampoo Application System
5.Chemical Mixing System
6.Any Car Wash Mode For Choice
...
Specifications:
| | | | |
| --- | --- | --- | --- |
| Body Size | L2900*W1000*H600mm | Install Size | L7000*W3300*H3300 |
| Power | 380v/ 16kw (or customized) | Rail Length | 6m |
| Control System PLC | Delta | Electrical Component | Schneider, France |
| Untrosonic Sensor | German B+F | High Pressure Plunger Pumo | PINFL |
| Pumping Station Main Motor | Lichao,Shanghai | Dryer Aluminium Shell Motor | Jinlong,Zhejiang |
| Drying System | 4 sets/ 12kw | Rotate Arm | 304 Stainless Steel |
Wash Functions:
1.High pressure pre-wash for under chassis and wheels.
Equipped unique chassis/ tire/ wheel rinsing function, 80Kg high pressure wash can effectively clean the chassis/ car body sides/ and the wheel sediment or other attachments.
2.360 rotate arm, spray various washing chemicals with high-precision proportioning technology.
Accurate metering, only 20-50ml chemical consumption for each car wash. Like a powerful chemical laboratory, equipped with a variety of liquid packages, no manual operation, fully automated adjustment ratio.

3. 360 rotate arm, Flush car body 360° with high pressure water.
Adopt washing method of average speed, pressure and distance equalization. Wash distance automatically adjusted according to the length of the vehicle body. Won`t restricted by any vehicle type completely removed the cleaning blind zone.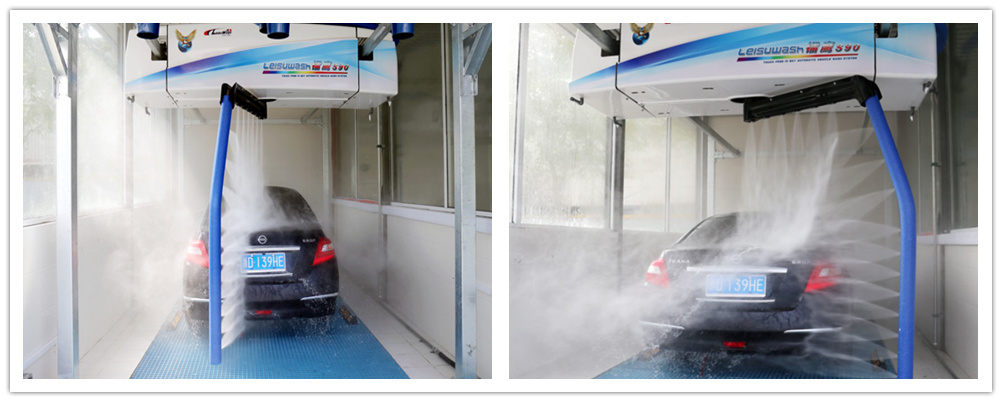 4.Magic Color Shampoo
Thick foam makes cleaning maintenance component fuller contact with dirt, thereby improving the efficiency of decontamination, making the paint colors more moist, bright lights.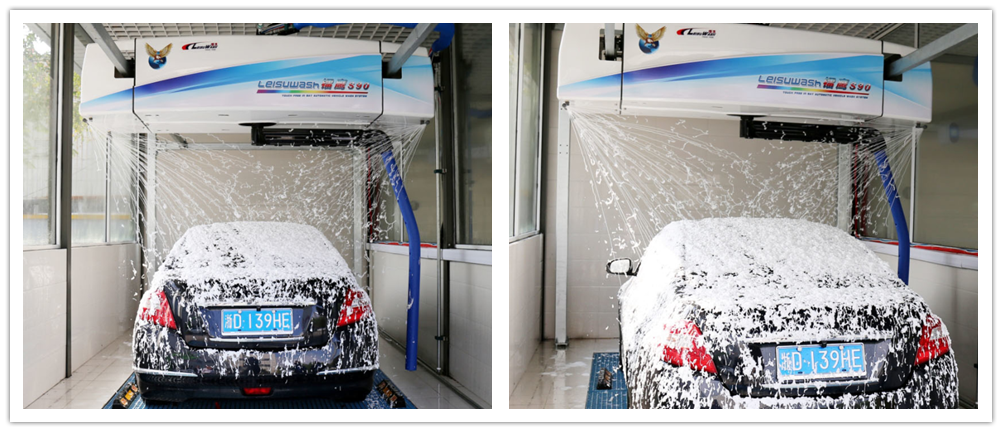 Leisuwash S90 Car Wash Machine – High Quality: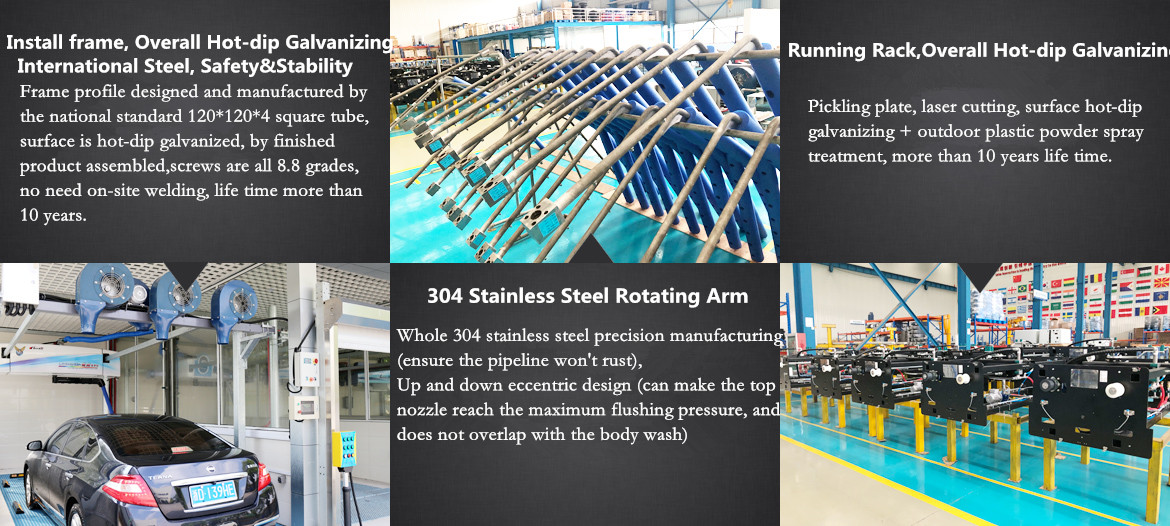 Leisuwash S90 Car Wash 3D Drawing – Easy Installation, Easy Maintenance.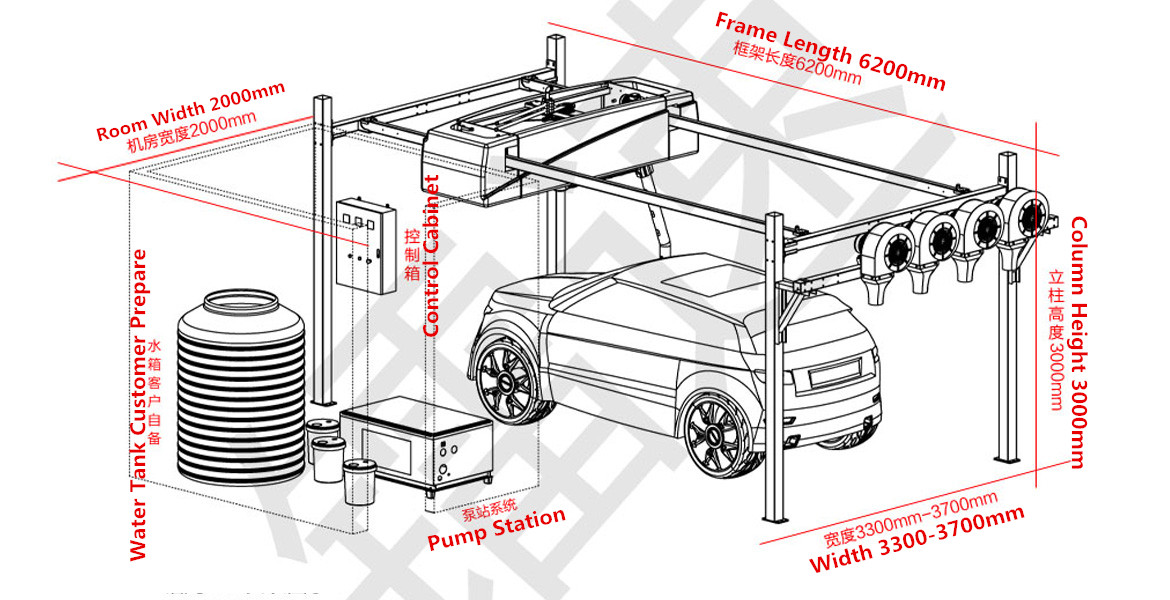 Packaging & Shipping: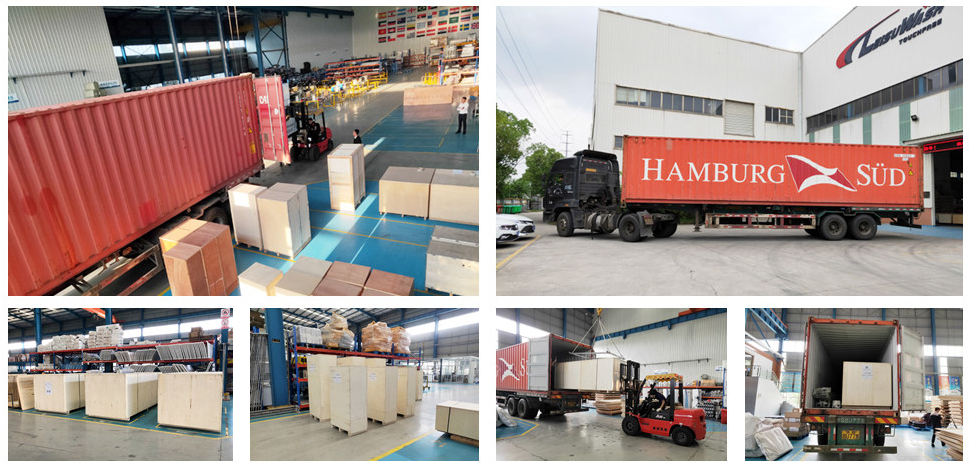 Leisuwash S90 Touchless Car Wash System Demonstration Video: