Product Description
Leisuwash automatic car wash installation cost
Leisu wash SG Simulate manual car wash action through computer program, automatically detect and identify all types of vehicles, linearly follow the body contour, accurately adjust the spraying distance, 35 cm washing distance, contour high pressure washing to achieve better cleaning effect.
Overview:
The development of the Leisuwash SG had one principle: a brushless machine should still deliver a great wash result ! The combined chemical applicator and high pressure bar do make this possible. It keeps an even distance to the car so that the chemicals can reach all parts of the vehicle in the same concentration. The combination of different chemicals will soften up even persistent dirt and the contouring high pressure system will clean it off easily.

Features:
1.Contour Profiling High Pressure Car Wash
2.Various Car Wash Liquid Spraying
3.High Pressure Side Wash with Duel Arm
4.Overglow high-gloss System
5.Reverse Osmosis Water Rinse
6.LED With Voice Guidance
7.Multi Language, Different Wash Mode For Choice
8.Embedded Fast Air Drying
...
Specifications:
| | | | |
| --- | --- | --- | --- |
| Power Requirements | 380v/22kw/50Hz | Max Car Wash Size | L5900mm*W2900mm*H2250mm |
| Control System | Siemens PLC | Pump Motor | German Siemens Aluminium Motor |
| Electric Components | French Schneider | Engineering Towline | German Igus |
| Rail Length | 8780mm | Reducer | Italy Siti |
| Weight&Packing | 3500kg 14m³ | High Pressure Piston Pump | Taiwan WH |
| Machine Install Dimensions | L8780*W3850*H3350mm | Nozzle | America SPRAY 316 Stainless Steel |
Wash Functions:
1.Leisuwash SG Contour-following Pre-soak Application and Super High pressure Rinse
In several stages two presoak chemicals are applied to the vehicle to soften up any crusted dirt, with our contouring application system the chemicals will be evenly applied to all areas of the car. It will automatically detect and identify all types of vehicles, contour following the car body at accurately 35cm distance, water is alternately supplied from horizontal arm or from vertical arm, up to 100 bar high pressure water with 15 nozzles could easily flushing away the dirt. Horizontal arm could go to really bottom and makes perfect cleaning at vehicle head and tail.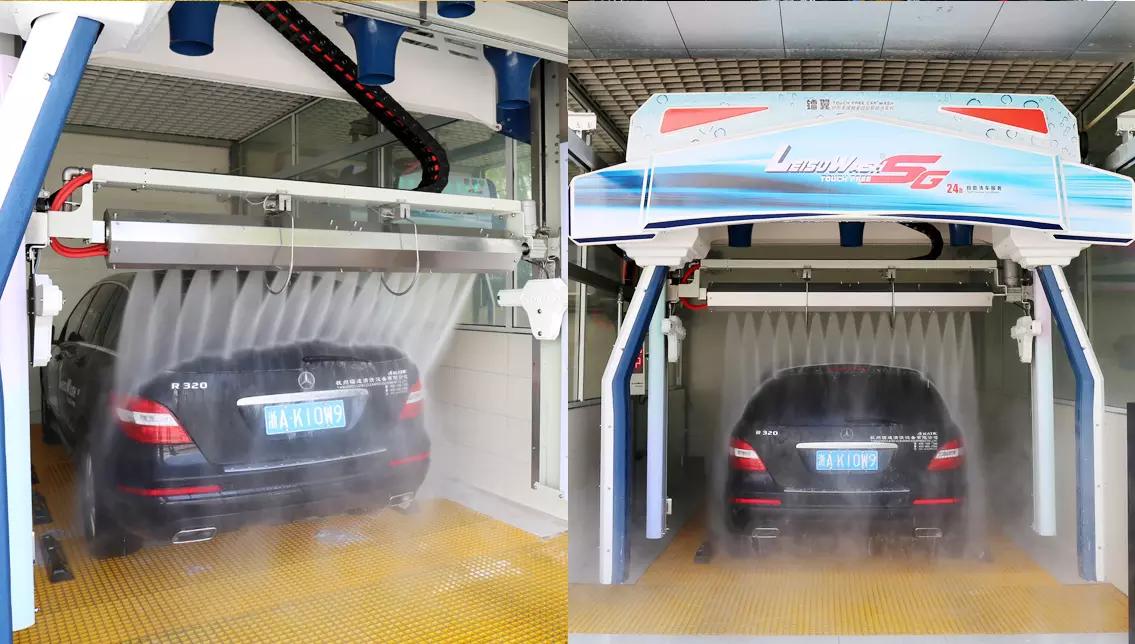 2.Leisuwash SG OverGlow Hi-Gloss Lava Foam System
Bright active agent Biodegradation and can improve the decontamination effect, making the paint surface more beautiful and brighter. Fantastic colorful LED light will attract drivers off steet and onto your wash bay.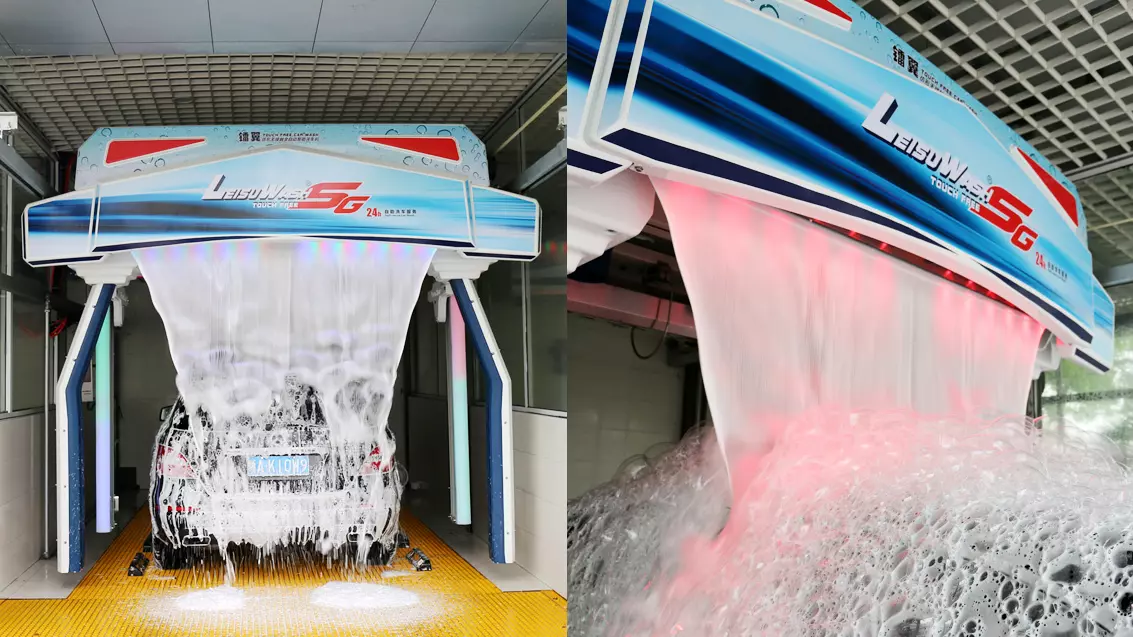 3.Leisuwash SG High Pressure Side Wash with Duel Arm
German P+F ultrasonic sensor detection system ensure 35 cm precision washing distance on both sides, water is alternately supplied from horizontal arm or from vertical arm, up to 100bar flushing pressure with 9 powerful USA made jets at both sides, can effectively cleans the sides and sill areas of the vehicle.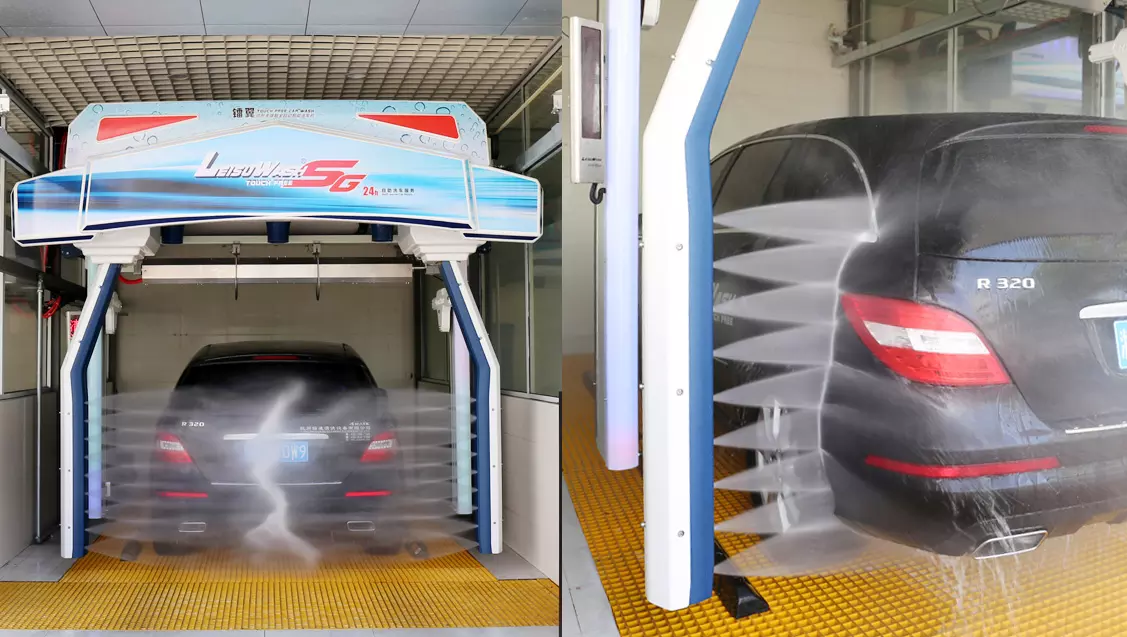 4.Leisuwash SG Spot Free Reverse Osmosis Water Rinse
Final rinse with reverse osmosis water can perform a spot free car wash, the crystal coating wax can be completely absorbed on the surface of the car body, with superior protection of car paint, and features anti-acid rain, pollution, UV erosion.
5.Leisuwash SG Intergrated Air Drying System
Following the Leisuwash philosophy there is no great car wash without a great drying system. Leisuwash SG configuring three 5.5kw and one 4kw Siemens motors embedded in the washing machine, control the airflow by four cylindrical outlet, the first task is to split a bunch of wind air, reducing wind drag subsequent to follow airflow to dry the surface of the car body, complete drying the car within 50 seconds.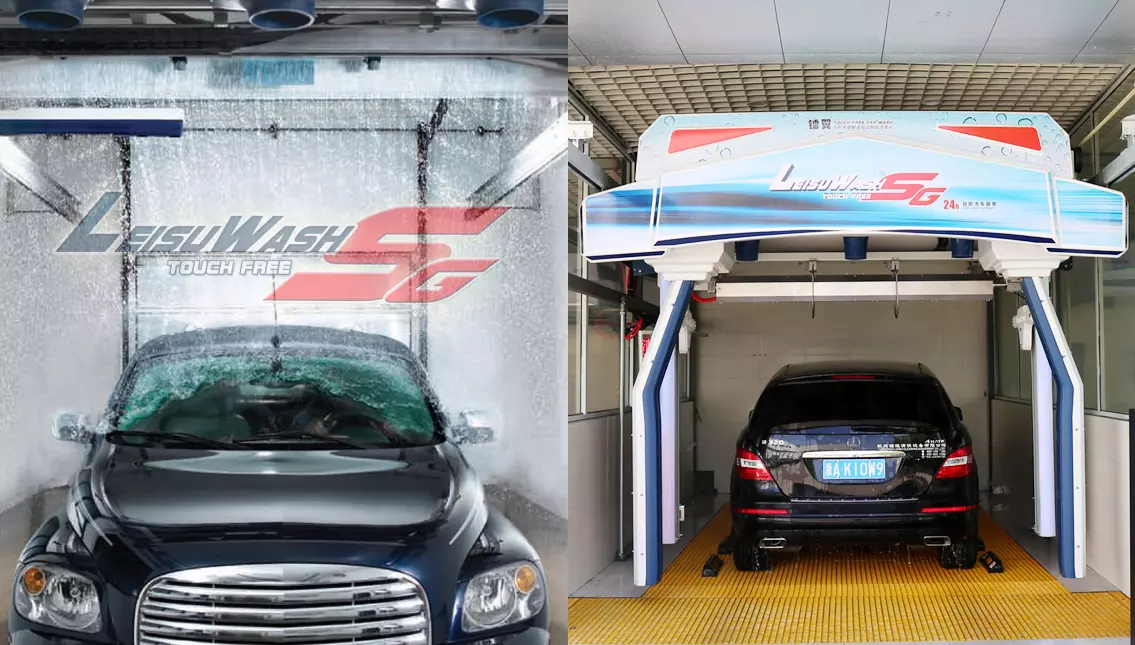 6.Leisuwash SG 24 hours Self-Service Online Paying
Through the online payment with voice guidance system can achieve 24-hours self service car wash. In China people use WeChat or Alipay online paying, overseas customers can adpot local payment system work together with Leisuwash systems.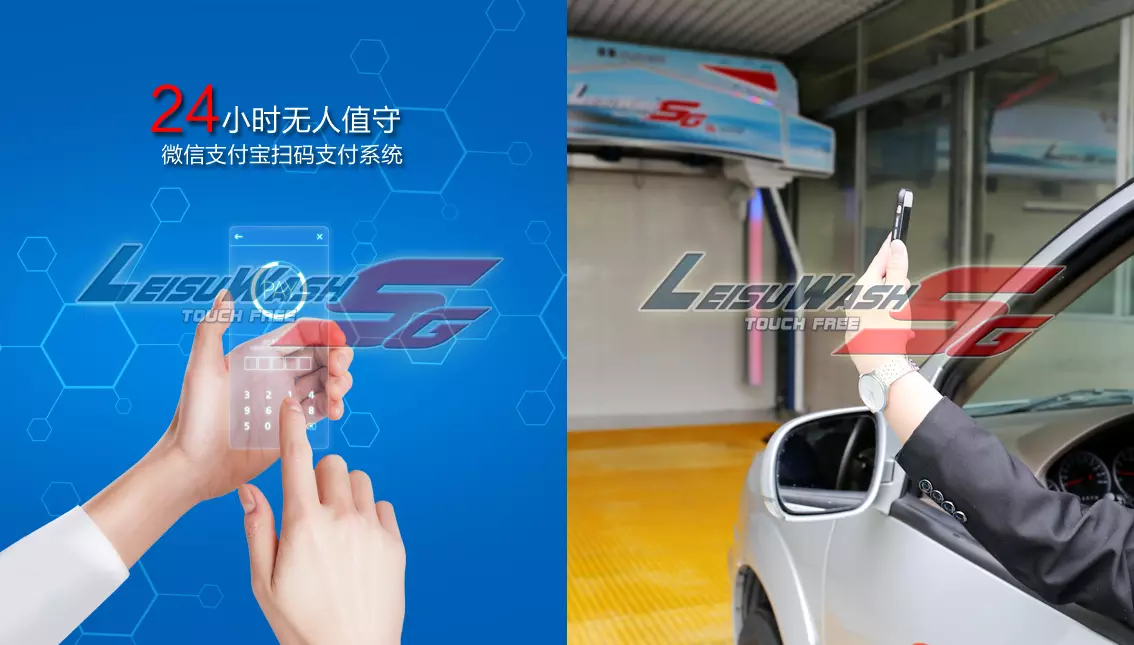 User-Friendly Design:
*LED with voice guidance
*Automatic clean rearview mirror
*Faulty record with data report
* Automatic standby service
* Multi control mode ( could operate wash system through touch panel, magnetic card, payment station button, remote controller )
Leisuwash SG installation 3D drawing: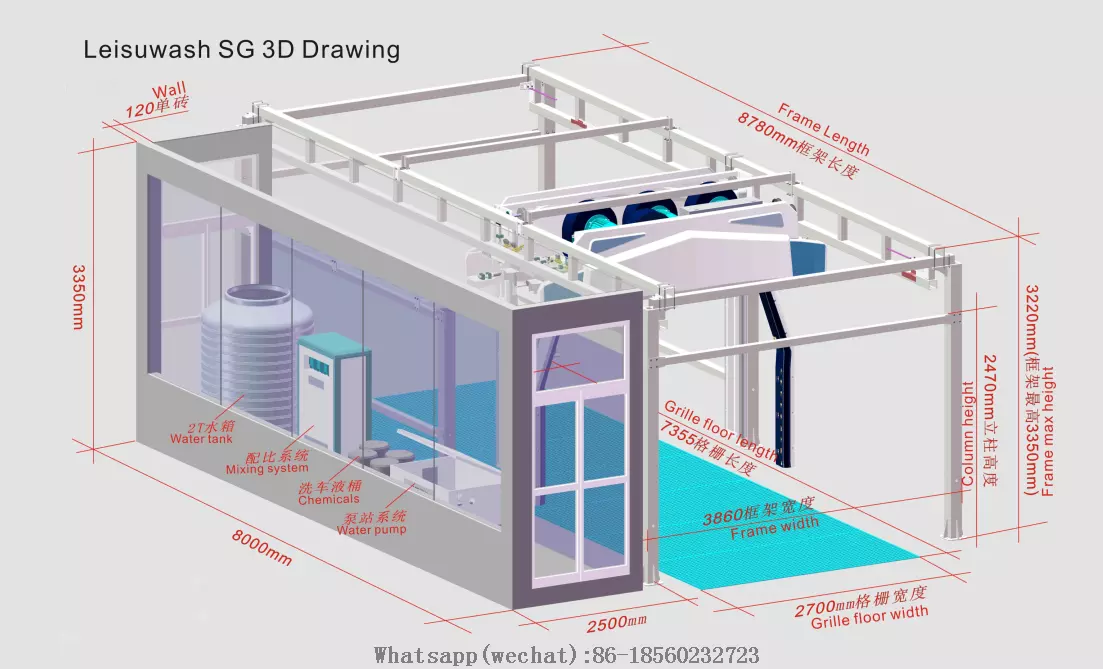 Leisuwash SG Car Wash Equipment Installation, shipping dimensions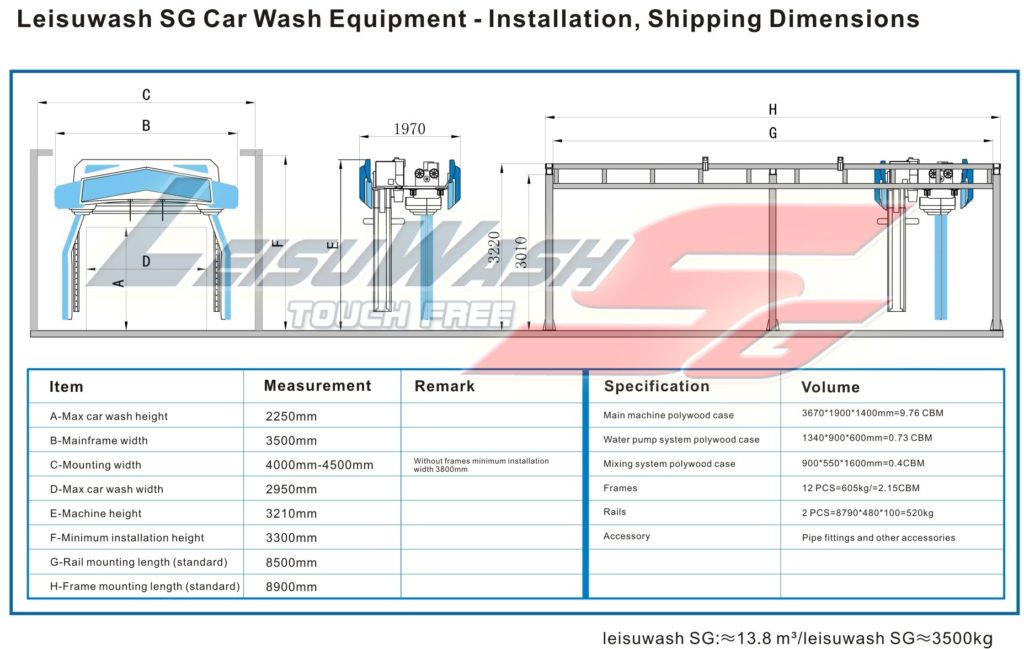 Leisuwash SG Automatic Car Wash System Parameters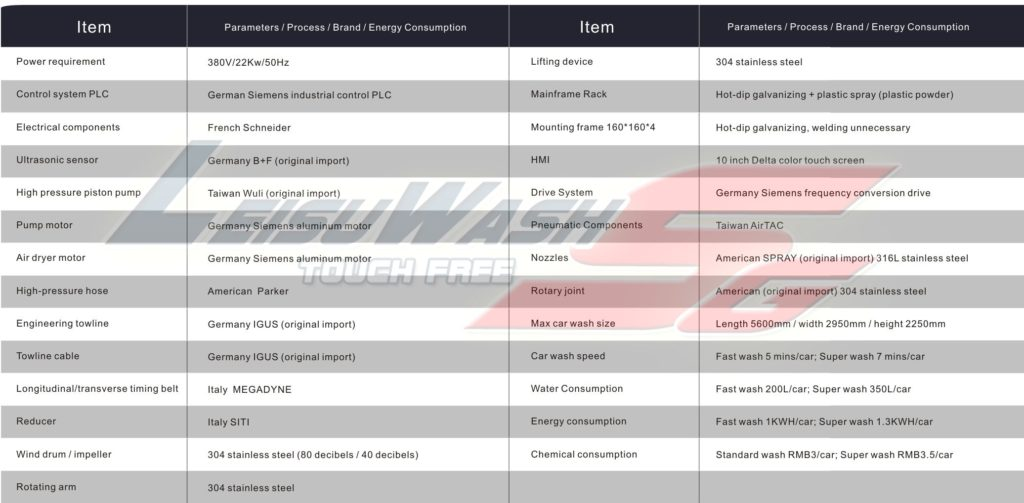 Leisuwash SG Car Wash System Configuration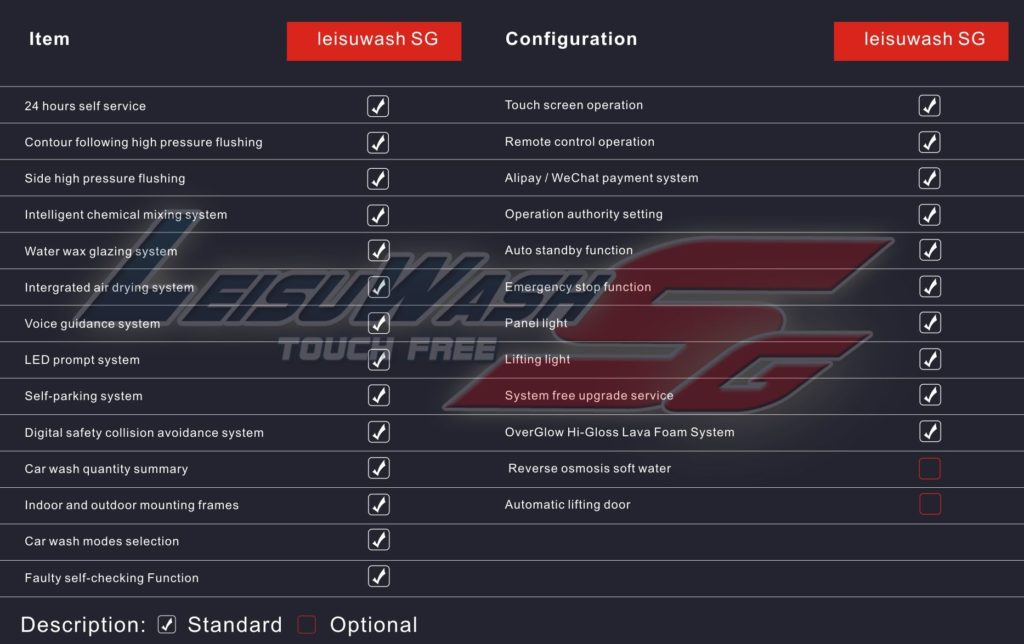 Our Service:
1. The service and maintenance of Leisuwash system should be done by specialist technician, Cut off power supply when machine under service. Factory setting management code is 8888, it has permissions to modify the parameters, view vehicle wash quantities and change the password. Default password is 0 for operating the wash system, it can be changed to others like 12345, then the operator need enter into management center firstly, type in password 12345 then can start the operation.
2. Keep the main control box and touch screen in drying circumstance, it`s not allowed to touch these devices with wet hands, keep chemical mixing box with water pump box at drying circumstance as well. Before turn on the power supply, make sure the main control box voltage display stability and consistency.
3. Service and maintain wash system regularly, regularly cleaning machine surface, remove dirt on sensors, remove water in drive control box. Cleaning water tank when it becoming dirty, especially inlet filter of water pipe. It`s strictly prohibited to start rinse when water tank lack of water, use chassis to exhaust air firstly, never exhaust air with [ L [ arm rinse.
4. Exhaust water in pipes and tank during car wash equipment idle time, and when temperature under zero degree, must close inlet valve of chemical mixing system before shutdown the machine, use one key drain function to exhaust liquid in machine pipes, and open the discharge valve, exhaust water to prevent freezing. Don`t start machine once freezing, otherwise will break the water pump and motor.
5. Add wash chemicals in-time, it will can not spray out the chemicals if air go inside the hose, prevent impurities fall into washing liquid bucket and water tank, otherwise may cause stuck inside the chemical mixing box.
6. Air compressor need to install oil-water separator, exhaust water in compressor every 15 days, the air supply for wash system can not contain a lot of water and oil, otherwise will cause lack of air during chemical spraying, It is strictly forbidden to directly use heavy alkaline water (PH value> 8) or high salty water.
7. Inspect water pump and pump motor belt every 30 days, tension belt if belt fluctuate too large, ensure parallelism during belt tensioning. Cleaning water pump filter regularly. Replace oil in water pump regularly( every 5000 cars ), or when the oil is dirty . Oil volume more than half but not full, Taiwan Wuli WH-10120 pump use No 30, 40 or 68 engine oil( 2.36L ), German Pinfl pump use 220 Shell gear oil ( 3.3 L )
8. Check synchronous belts every 30 days, immediately tighten it if happened deviation and loose phenomenon, otherwise machine will jump with grinding noise.
9. Check terminals inside Electrical cabinet every 30 days, especially terminals for water pump and air fan power line, and terminals in drive control box ( because it walking every day ), tighten it if any loose. This can ensure a stable performance of electricity system.
10. Inspect frame screws and rail fixing screws every 90 days, Check the walking wheels every half year.
Packaging & Shipping