Product Description
Leisuwash 360 touch free car wash machine
With the features of multi-functions, high quality and good performance,the touch free car wash machine Leisuwash 360 provide users with a high-quality solution that is comparable to the internationally advanced car wash equipment. It is capable of cleaning,polishing, waxing and fast drying, suitable for most domestic and foreign car wash shops, gas stations, car 4S shop and other users to buy.We have a professional technical research and development team to provide users with professional installation and after-sales service. We have everything you need here. We hope to cooperate with the customers all over the world and serve the global users.After several years development,our leisuwash 360 touch free car wash machine have been exported to more than 80 countries all over the world and many agents choose to cooperate with us. We warmly welome you come to inspect our factory and machine.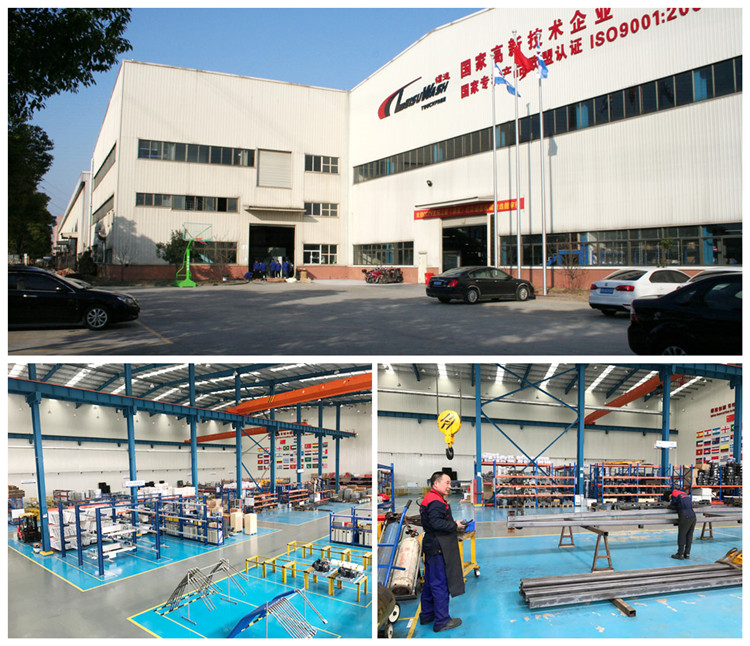 6 Functions of Leisuwash 360 mini touchless car wash equipment:
Function 1. High pressure pre-wash for under chassis and wheels.
Equipped with a unique chassis and fan hub flush function, 90bar high pressure water can effectively remove
dirt on chassis, body sides and wheels.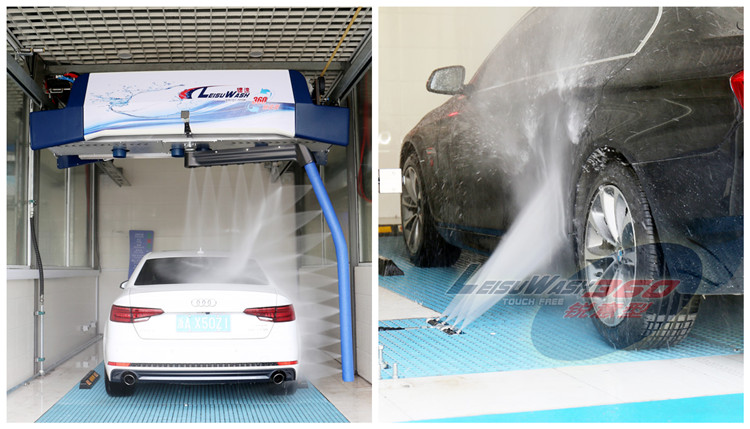 Function 2. Smart 360 rotate arm, spray various washing chemicals with high-precision proportioning technology.
100% accurate measurement with adjustable ratio. only 20~50ml pre-soak comsumption for washing one car
through high precision chemical mixing system, save material and cost efficiently.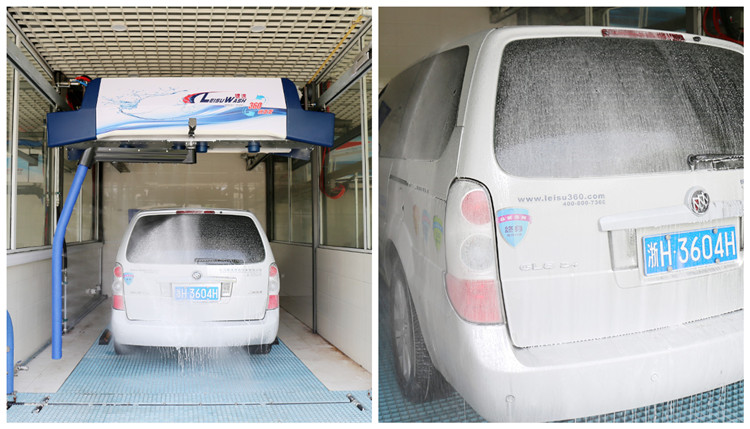 Function 3. Smart 360 rotate arm, Flush car body 360° with high pressure water.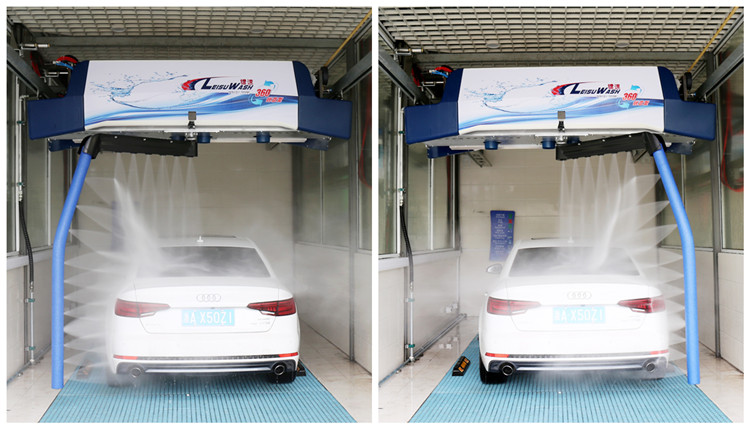 Function 4. Soft water with crystal wax coat.

Soft water can make magic crystal coating color shampoo and wax completely adsorbed body surface,
forming a multi-layered interaction strength protective film, car paint become more glorious and beautiful with
durable paint protection. Crystal coating of wax can be generated in the paint surface layer polymer, the water
softener fused into a hard protective film, with superior protection of car paint, and features anti-acid rain,
pollution, UV erosion.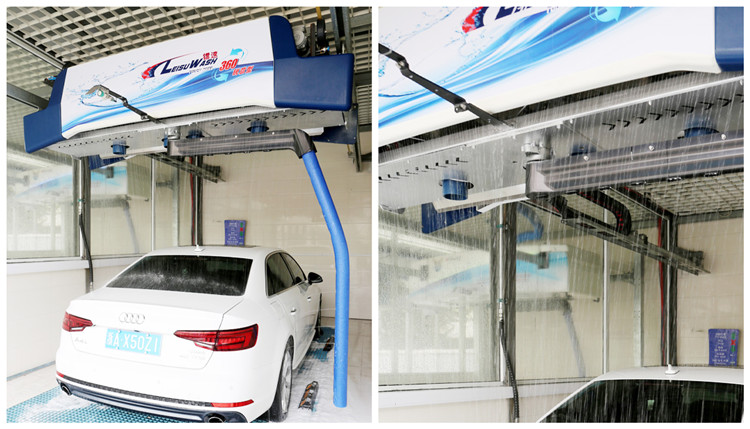 Function 5. overglow hi-gloss application syetem
This innovative system create a silky smooth sheet of solution draping their vehicle, the bright colorful LED light illuminated the solution during the application, providing a unique and entertaining customer experience, your customer will love very shiny vehicle, and you will love the extra revenue.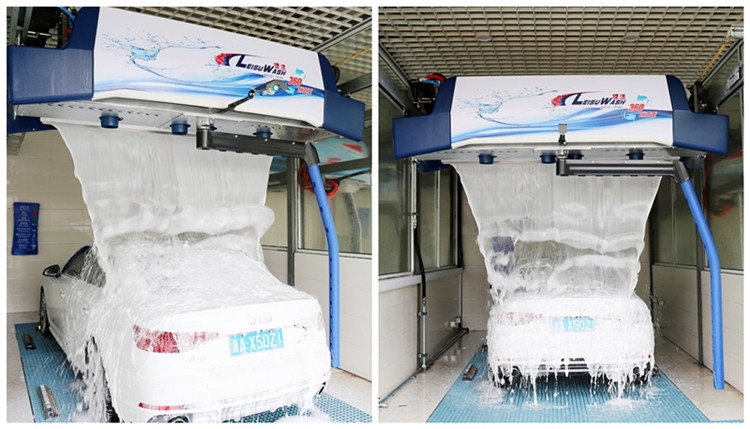 Function 6. Unique embedded fast air drying system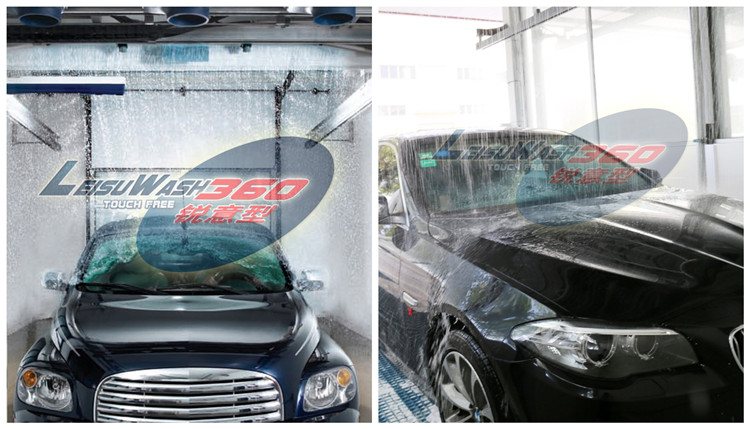 Leisuwash 360 mini touchless car wash equipment intelligent collision avoidance system: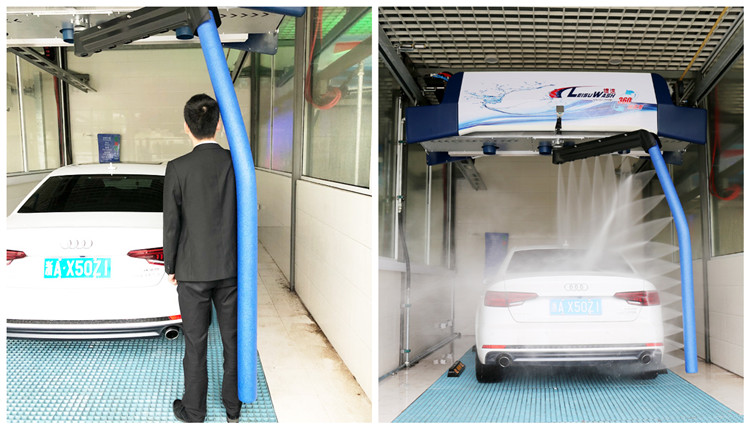 Leisuwash 360 mini touchless car wash equipment LED guidance and voice instruction:
Leisuwash 360 mini touchless car wash equipment 3D installation drawing: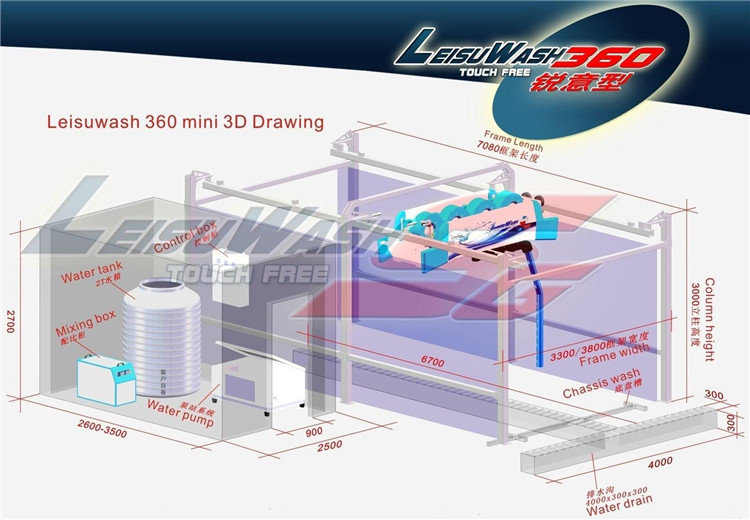 Technical parameter of Leisuwash 360 touch free car wash machine: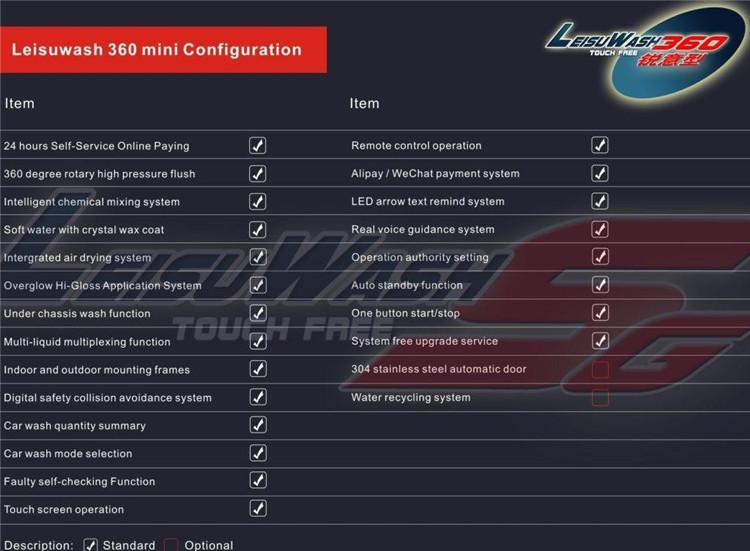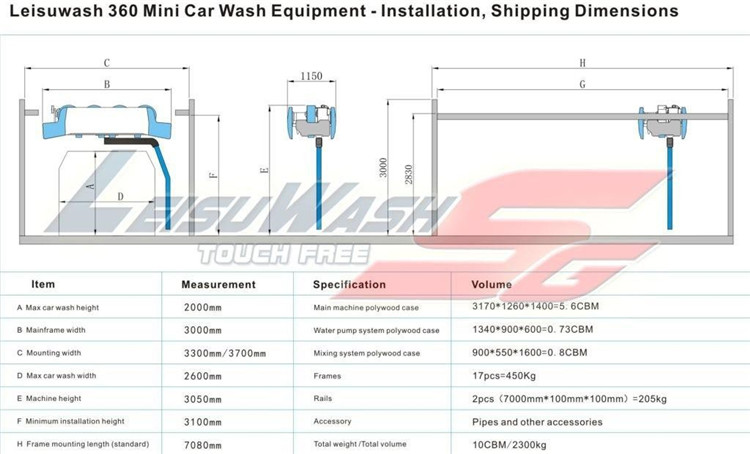 Package details:
Polywood case for main machine: 3170*1260*1400mm
Polywood case for water pump system: 1340*900*600mm
Polywood case for chemical mixing system: 900*550*1600mm
Shipping weight: 2300kgs,
Shipping volume: 10CBM.
Our Leisuwash 360 touch free car wash machine need to be shipping with 40 feet container or 40HQ container because of the 2 rails, the length of the rails is 7.5 meters, longer than 20 feet container. One 40HQ container can ship 3 sets machines.